Product Lists & Information:
---
• Home
• Place an Order
• Snacks, Gifts, & Misc.
• Favorite Recipes
• Photos of our Farm
• FAQ
• Contact Us
• Helpful Links
---
Website Special!

Place an order online and receive a free Paul's Grains product sample of our choice! Be sure to check the box on the order form to indicate your interest.
---
Stay updated!
Join our email list to receive occasional news about site updates, new products, sales, and more. We promise not to give your address to anyone else, and you're free to unsubscribe at any time.
---
Get in touch:
2475-B 340th St.
Laurel, IA 50141
(641) 476-3373
pauls@paulsgrains.com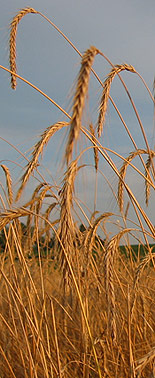 We hope you come back again!




"I received the flour on Monday! Thank you very, very much! I appreciate how well it was packaged so that it will be easily 'freeze-able!' Thanks so much!! Your company has the best prices for shipping that I have found and I truly appreciated your fast shipping and very friendly customer service!"
--Paul's Grains Customer
Whole Grains Price List
Click on the name of the each grain below for information about it, recipes, etc. Grains that we have not raised ourselves, but have purchased from other organic farmers, are marked with an asterisk (*). If you have questions on how to use any of these products, or are interested in having us do some custom milling, please contact us! We are glad to help you in any way.
1-4 lb.
5-49 lb.
50 lb. +
Barley, hulled or unhulled
1.50
1.40
1.30
Barley, pearled
1.80
1.70
1.60
Buckwheat, whole
2.20
2.10
2.00
Buckwheat Groats, hulled*
3.30
3.10
2.90
Corn Kernels, open pollinated
1.50
1.40
1.30
Flax Seed, Brown*
2.70
2.50
2.35
Flax Seed, Golden*
3.20
3.00
2.85
Kamut*
2.30
2.20
2.10
Millet*
1.50
1.40
1.30
Oat Groats (some broken)
2.00
1.85
1.70
Popcorn, White*
3.35
3.15
3.00
Popcorn, Yellow*
2.15
2.00
1.90
Popcorn, Multi-colored*
2.50
2.35
2.25
Quinoa, Black*
5.55
5.30
5.05
Quinoa, Calico*
4.60
4.35
4.10
Quinoa, Red*
4.60
4.40
4.20
Quinoa, White*
3.80
3.60
3.40
Rice, Brown -- short grain*
3.15
2.95
2.75
Rice, Brown -- long grain*
3.50
3.30
3.10
Rye Berries
1.50
1.40
1.30
Soybeans
1.30
1.20
1.10
Spelt (hulled)
2.30
2.15
2.00
Wheat, Hard red
1.20
1.10
1.00
Wheat, Hard white*
1.70
1.60
1.50
Wheat, Pastry*
1.10
1.00
0.90
Printer-friendly product list is

here.
~ How to order ~
Check out our Snacks & Misc. page for a soup bean mix, wild rice, etc.
---
Corn Kernels, Wheat Berries, Rye Berries,
Barley Groats, Spelt, Pastry Wheat, Kamut
These whole grains are purchased primarily by those who have their own mills and want to enjoy the unrivaled flavor of freshly-ground flour and cereal at their convenience. For home use, we recommend the Whisper Mill (electric) and the Family Grain Mill (hand cranked).

These grains are also excellent for sprouting, and, with the exception of the barley groats and corn, can be cooked for hot cereal -- it is chewy, but tasty. Simply soak the grain overnight and then steam it as you would rice. This cooked grain can then be run through a food processor, if you wish, to make it less chewy, but it is good as is.
Back to Product List
Whole Soybeans
Much has been said about soybeans in recent years, both pros and cons. For those interested in learning how to use whole soybeans, we have a couple recipes: Soy Burgers and Roasted Soybeans. Customers also tell us how they use soybeans in soups and in other dishes as they would use other beans.
Back to Product List
Buckwheat -- hulled and unhulled
Because the hulls on buckwheat are impossible to chew, the only use for the grain with hulls is to grind it into buckwheat flour. We often use the hulled grain for a delicious hot cereal, by steaming it 10-15 minutes. It's one of our children's favorites!
Hulled buckwheat is also available as part of our Hot Cereals Sampler Pack.
Back to Product List
Oat Groats
This is the form oats are in after they have been combined and hulled. Some of the kernels are whole; others are broken. It is similar to oatmeal, only coarser, and makes a wonderfully flavorful hot cereal. Our family prefers it to oatmeal or oat bran because of the additional texture.
Back to Product List
Brown Rice -- Short and Long Grain
Brown rice may be substituted for white rice for a lot more nutrition and flavor. Some people prefer the long grain, and our personal family favorite is the short grain -- both are delicious! It takes 30-40 minutes to steam.
Long Grain Brown Rice is also available as part of our Best Sellers Sampler Pack.
Back to Product List
Millet
This small grain can be steamed 10-15 minutes for a delicious, light hot cereal. It's another one of our children's favorites, especially when we fix it using our special hot cereal recipe. Some customers have also added this to bread, in small amounts.
This item is also available as part of our Hot Cereals Sampler Pack.
Back to Product List
Flax Seed -- Golden and Brown
Much has been said lately of the benefits of eating flax seed, and we've had many orders for it. We offer both the regular, brown flax seed and the golden variety -- the latter is said to be higher in Omega 3 Fatty Acids. Click here for more ideas on using flax, including several recipes.
Back to Product List
Quinoa
This unusual grain (pronounced "keen-wa") is steamed as you would rice and used as a side dish, or in casseroles, soups, etc. We also enjoy fixing it as a hot cereal, using our special hot cereal recipe. Its delicious flavor makes it a welcome addition to any meal. Red quinoa is just a different variety; it has a slightly different flavor, but can be used the same as the regular quinoa. Want to learn more about quinoa? Click here.
Back to Product List
Popcorn
Both our yellow and white popcorn - as well as the new multicolored (or "Patriotic") popcorn - are big favorites among Paul's Grains' customers! They have excellent flavor and pop up large and fluffy, and many customers have told us this is the best popcorn they've ever had. Once you try it, you'll want to buy more to stock up. :-)
Yellow Popcorn is also available as part of our Best Sellers Sampler Pack.
Back to Product List
---